Business Development Books [Page 16 of 263]
Violence in Today's School Workplace Protecting Teachers and School Employees in a Violent Age
General, Financial, Entrepreneurship, Small Business, Social Policy, Business & Economics -> Business -> Business Studies, SCEB033010, SCEB033015, SCPI8510, Business & Economics -> Accounting -> Financial Accounting, Business & Economics -> Management -> Entrepreneurship, Business & Economics -> Management -> Small Business Management, Social Sciences -> Political Science -> Public Policy
Thomas M. Cooney
Published: 20200429
ISBN: 1351020323
Publisher: Taylor & Francis
---
Mastering Global Business Development And Sales Management
Thomas A. Cook
Published: 2020
ISBN: 1482226243
Publisher: Taylor & Francis Group
---
Business Finance As A Tool For Development
Rural development, Rural development--United States, Business enterprises--Finance, Business enterprises--United States--Finance, HN90.C6 M375 1992
Markley, Deborah M.
Published: 1992
ISBN: 0898431123
Publisher: Aspen Institute
By Deborah M. Markley With Katharine Mckee. Includes Bibliographical References (p. 81-83).
---
Web Design and Development for E-Business
Nazrul Islam , 1899-1976, PK1718.I8 B53 2014
Zhao, Jensen J.
Published: 2002
ISBN: 0130417173
Publisher: Prentice Hall
Critical Essays On Bidrohī, Bengali Poem Written By Kazi Nazrul Islam, 1899-1976. Saiẏada Mahibula Isalāma Sampādita O Saṃkalita = Bidrohi'r 90 / By Syed Mohibul Islam. In Bengali; Includes Verses In English.
---
The Development Of Japanese Business, 1600-1973
Johannes Hirschmeier
Published: 1975
ISBN: 0043302505
Publisher: Allen & Unwin
Johannes Hirschmeier And Tsunehiko Yui. Includes Bibliographical References And Index.
---
Multinationals And Economic Development (rle International Business)
International business enterprises, Investments, foreign, developing countries, Developing countries, economic policy
Ahiakpor, James C.w. (california State University, Usa)
Published: 2012
ISBN: 0415639204
Publisher: Taylor And Francis Ltd
What Are The Options Open To Policy-makers In Developing Countries When Dealing With Multinationals? How Can They Maximize The Contribution Of Multinational Enterprises Towards Their Economic Growth? Multinationals Dominate World Trade And Direct Investment. However, Less Developed Countries Have Often Regarded This Power As Detrimental To Their Fragile, Growing Economies And Have Pursued A Policy Of Regulation. Modern Economic Theories Of Multinationals Need To Evaluate The Effects Of Such Policies. By Integrating Theories Of Multinational Enterprise And Of Development Economics, The Author Presents A Critical Analysis Of The Various Competing Policy Options And Their Consequences. Using Empirical Evidence From Asia, Africa And Latin America And Covering Such Areas As Imports, Exports, Resource Utilization And New Technology, The Author Maintains That A Classical Neutralist Policy Towards Mncs Would Be The Most Effective Way Of Stimulating Growing Economies.
---
The Business Of Water And Sustainable Development
Water-supply--Management, Integrated water development, TD345 .B87 2005, 658.4080218
Chenoweth, Jonathan
Published: 2005
ISBN: 1874719306
Publisher: Greenleaf Pub.
The Business Of Water And Sustainable Development Aims To Illustrate The Range Of Approaches That Will Be Necessary If The Percentage Of The Global Population Having Access To Adequate And Safe Water And Sanitation Is To Be Increased In Line With The Brave Assertions From The Johannesburg Summit. Some Of The Approaches Will Be Large-scale 'western-style' Improvements Involving The Creation Of New Business Models, Their Effectiveness Assessed By Traditional Approaches Of Fiscal And Social Analysis. Such Schemes May Be Instigated And Partly Funded By Governments, But Are Increasingly Turning To The Private Sector For Money And Expertise. In Contrast, Many Smaller Communities Would Be Better Served By Following Another Path To Improved Water Supply And Sanitation. Because Of Their Size, Location Or Traditions They May Achieve Better Results Through The Adoption Of Local Small-scale Solutions.--book Jacket. General Theory -- Privatisation -- Technology -- Regionally Focused Case Studies: Rural Environments -- Regionally Focused Case Studies: Urban Environments. Edited By Jonathan Chenoweth And Juliet Bird. Includes Index. Includes Bibliographical References And Index.
---
Frameworks of IT Prosumption for Business Development
Business Development, General, Strategic Planning, Business & Economics -> Economics -> Economic Development, Business & Economics -> Business -> Business Studies, Business & Economics -> Management -> Strategic Management
Małgorzata Pańkowska
Published: 2013
ISBN: 1466643145
Publisher: IGI Global
Separation distinction between the roles of the producer and consumer has become blurred with the development of new science and technologies enabling the emergence of the prosumer, or the active consumer. In the IT sector, the role of the end-user has broadened to include innovation and development practices in addition to the traditional consumer activities. As such, businesses must create opportunities for product development and innovation by the consumers. Frameworks of IT Prosumption for Business Development investigates the latest empirical research on active use of information technology resources, enabling users with new methodologies, tools, and opportunities to impact application development processes. The objective of this reference book is to mobilize end-users to take a more active role in their own IT solutions, which will in turn assist in the development of best practices in IT at all levels.
---
Business For Development: Fostering The Private Sector Entreprendre Pour Le Développement
Industrial policy, Economic development--Government policy, Public-private sector cooperation, HD75 .B86 2007
Oecd Organisation For Economic Co-operation And Develop
Published: 2007
ISBN: 9264034218
Publisher: Development Centre Of The Organisation For Economic Co-operation And Development
The Days When It Was Thought That The Development Process Could And Should Be Managed By Governments Alone Are Long Past. The Challenge Today Is How To Involve Other Parts Of Society Such As The Private Sector And Ngos. This Book Details The Activities Of The Private Sector In Developing And Emerging Economies And Demonstrates How These Activities Are Inter-related With Government Policies. Understanding These Activities And Public-private Interactions Is Indispensable For The Private Sector To Play Its Full Role In A Nation's Development Process. To This End, Several Case Studies Provide Concrete Examples From Africa, Asia And Elsewhere. Introduction And Overview -- Private Sector Development: Concepts And Practices -- Export Diversification And Global Value Chains: Lessons Form Selected Case Studies -- Agriculture In Africa: Open For Business ? -- Corporate Governance For Economic Development. Oecd. Also Available In French Under The Title: Entreprendre Pour Le Développement : Promouvoir Le Secteur Privé. This Volume Has Been Edited By Kiichiro Fukasaku--p. 6. Includes Bibliographical References. Also Issued Electronically Via The World Wide Web As Part Of Sourceoecd.
---
Oracle E-Business Suite Development & Extensibility Handbook
General, General, COM021000, cs.bs.mis.hwsw_bus, cs.cmp_sc.app_sw.db
Anil Passi; Vladimir Ajvaz
Published: 20091006
ISBN: 0071629416
Publisher: McGraw-Hill Professional
Extend and Customize Oracle E-Business Suite Transform your Oracle E-Business Suite infrastructure to suit enterprise requirements using the comprehensive development methods in this Oracle Press guide. Oracle E-Business Suite Development & Extensibility Handbook lays out each tool alongside reusable code and step-by-step examples. Learn how to create multiorg objects, integrate Java and PL/SQL, design custom user interfaces, and use Oracle Application Framework and Oracle Workflow. This detailed volume also explains how to work with Oracle XML Gateway, publish dynamic business intelligence reports, and tune your configuration. Manage an efficient development platform with Oracle Application Object Library Develop concurrent programs, customized forms, and personalized graphical user interfaces Securely share data between organizations Distribute business communiqués through Oracle Reports and Oracle Business Intelligence Publisher Develop Java extensions with Oracle JDeveloper and Oracle Application Framework Capture and graphically map business processes using Oracle Workflow Exchange data between applications via Oracle XML Gateway Change the appearance of applications using Custom Look and Feel Integrate Oracle E-Business Suite with service-oriented architecture using Oracle Applications Adapter On Demand
---
USF Holland Package Tracking
Shipping > Shipment Tracking
Track your USF Holland parcel through the online tool at Track a PKG.
---
Transnational Business Law: A Development Law Perspective
Sarkar, Rumu
Published: 2003
ISBN: 9041199217
Publisher: Kluwer Law Intl
In developing countries, because of economic development pressures that deeply pervade all aspects of enterprise, international business transactions give rise to crucial issues that practitioners cannot afford to ignore. In this new book Rumu Sarkar,whose Development Law and International Finance has quickly taken its place as the preeminent theoretical analysis of the new legal discipline of development law, at last gives busy lawyers engaged in international business as practical a text as they could desire. Transnational Business Law shows that the decisions and strategies of lawyers involved in the hectic daily routines of creating and executing cross-border transactions can serve the best interests not only of their businesses but of economic development as well.
In essence, this is a classic international business transactions handbook, with the overarching dimension of development law added. It offers detailed principles for structuring transactions, negotiating the underlying finance and related documents, and navigating dispute resolution mechanisms. It provides annotated forms, negotiating exercises, hypothetical examples, and actual case summaries and analyses. It presents economic development issues as they arise in such areas of activity as the following:
cross-border financing of goods and services, technology transfers, and intellectual capital;
structuring cross-border transactions through private equity, corporate debt, and multilateral development bank financing;
managing commercial risks;
negotiating debt work-outs for non-performing loans;
mitigating non-commercial risks through credit enhancement strategies such as obtaining political risk insurance; and
contracting for arbitration or other dispute resolution methods.
Important factors such as 'long-arm' U.S. law, international legal regulation of business conduct, and relevant underlying local law and local legal traditions are all brought to bear on the issues when appropriate.
Transnational Business Law will be especially useful to practitioners in developing countries whose legal decisions in relation to cross-border transactions often involve critical economic and political ramifications. Through her detailed exploration of how international transactions unfold within the context of economic development, Professor Sarkar greatly enhances the growth of a commitment among the international business community to achieve mutually constructive ways to conduct business between developed and developing countries.
---
Policing Development and Contemporary Practice
General, General, Business & Economics -> Business -> Business Studies, English & College Success -> College Success -> Career
Paul Dowson
Published: 20150316
ISBN: 1473918197
Publisher: SAGE Publications, Ltd. (UK)
This book clearly approaches the "21st century skills-issue" ... Hands-on, reflective, thorough: a definite must-have for students, professionals and HE institutions.′ - Nieke Campagne, Careers/Policy Advisor, Leiden University, The Netherlands   Whether you are about to embark on your business degree programme, are already a business student or are a business graduate, this book helps you to develop yourself and your career in ways which will benefit you, your current and future employers and society.  Focused on developing study and personal skills to enhance your employability, it provides insights and practical guidance on: Developing a skill set and competencies that will be valued by employers, including team-working, critical thinking, networking, managing emotion and managing technological change Self-profiling through career and life planning, and self-presentation through career communication, volunteering and internships Becoming a global business practitioner, able to anticipate economic and cultural change, understand a diversity of world¬views and the idea of 'global responsibility' Becoming a responsible and ethical business practitioner, embodying virtues and values which are increasingly sought after by employers in line with consumer expectations. ′The first thing I really love about Paul Dowson's hugely comprehensive book is its clarity; he takes complex themes and turns them into accessible learning outcomes. The other thing to love is its humanity – it is insightful and borne of a deep concern about how students transition from higher education to working life and citizenship.′ - Jane Artess, Director of Research, Higher Education Careers Services Unit (HECSU), UK
---
Business Information Systems : Technology, Development And Management For The E-business
Dave Chaffey, Raymond Frost
Published: 2003
ISBN: 0582842425
Publisher: Financial Times/ Prentice Hall
---
Business-information-systems-technology--development-and-management-for-the-e-business-with----
Chaffey, Laudon
Published:
ISBN: 0582844150
Publisher:
---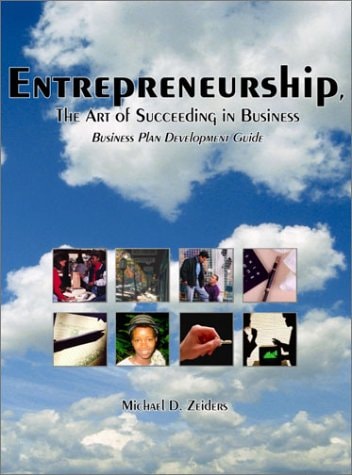 Entrepreneurship, The Art Of Succeeding In Business: Business Plan Development Guide
Michael D. Zeiders
Published: 2002
ISBN: 0971730121
Publisher: Michael D. Zeiders 2002-11-01
---
Down To Business: Business-government Relations And South Africa's Development Needs Business-government Relations And South Africa's Development Needs Government-business Relations And South Africa's Development Needs
Business enterprises, Business enterprises--South Africa, Commercial policy, Foreign economic relations, HF1613.4 .M33 1999
Mackay, Shaun.
Published: 1999
ISBN: 1919708502
Publisher: Centre For Policy Studies
---
Business Information Systems: Technology, Development And Management
Chaffey
Published: 1999-05-31
ISBN: 0273641832
Publisher: Financial Times Prentice Hall (a Pearson Education Company)
---
Mapping The Shift In Business Development Services
Malcolm Harper
Published: 2005
ISBN: 1853395919
Publisher: Practical Action Publishing
---
Restrictive Business Practices, Transnational Corporations, And Development
F. Long
Published: 2012
ISBN: 940098152x
Publisher: Springer
---
Rapid Prototyping; Moving To Business-centric Development
John P. Reilly
Published: 1996
ISBN: 1850321930
Publisher: Coriolis Group
---
[Page 9] [Page 10] [Page 11] [Page 12] [Page 13] [Page 14] [Page 15] [Page 16] [Page 17] [Page 18] [Page 19] [Page 20] [Page 21] [Page 22] [Page 23]