Entrepreneurship Books [Page 12 of 322]
Digital Entrepreneurship
& CASES, THEORY
Published: 2015
ISBN: 1517248949
Publisher: CreateSpace Independent Publishing Platform
---
Female Entrepreneurship
Nancy M. Carter, Colette Henry, Barra O. Cinneide, Kate Johnston
Published: 2006
ISBN: 113422866X
Publisher: Routledge
---
Subsistence Entrepreneurship
Entrepreneurship, Production & Operations Management, General, Sustainable Development, Business & Economics -> Management -> Entrepreneurship, Business & Economics -> Decision Sciences -> Production/Operations Management, Business & Economics -> Economics -> Economic Development, SC514000, SC518000, SCW42000, SC515040, SC913110, SUCO41169, 3752, 3120, 3031, 3248, 3559, 4071
Daniel Rosenthal; David Rosenthal; Peter Rosenthal
Published: 20190404
ISBN: 3030115429
Publisher: Springer Nature
---
Responsible Entrepreneurship
Entrepreneurship, Management, Business & Economics -> Management -> Entrepreneurship, Business & Economics -> Management -> Principles of Management, SC514000, SC515010, 3752, 3247, SUCO41169
Harald Pechlaner; Sebastian Speer
Published: 20201009
ISBN: 3658316160
Publisher: Springer Nature
---
Entrepreneurship Marketing
Sonny Nwankwo, Tunji Gbadamosi
Published: 2010
ISBN: 0203838645
Publisher: Routledge
---
Technological Entrepreneurship
Entrepreneurship, Production & Operations Management, Management, Business & Economics -> Management -> Entrepreneurship, Business & Economics -> Decision Sciences -> Production/Operations Management, Business & Economics -> Management -> Principles of Management, SC514000, SC518000, SC515010, SUCO41169, 3752, 3120, 3248, 4071, 3247
Ian Chaston
Published: 20170128
ISBN: 3319458507
Publisher: Springer Nature
---
Technology Entrepreneurship
Entrepreneurship, Production & Operations Management, Business Ethics, General, Business & Economics -> Management -> Entrepreneurship, Business & Economics -> Decision Sciences -> Production/Operations Management, Business & Economics -> Management -> Business Ethics, Trades & Technology -> Technology & Engineering -> General, SC514000, SC518000, SC526000, SCT22016, SUCO41169, 3752, 3120, 4718, 3040, 4071
Karin Thier
Published: 20180322
ISBN: 3319735098
Publisher: Springer Nature
---
Social Entrepreneurship
Small Business, Entrepreneurship, Management, Business & Economics -> Management -> Small Business Management, Business & Economics -> Management -> Entrepreneurship, Business & Economics -> Management -> Principles of Management, SC514010, SC514000, SC515000, SUCO41135, 3752, 3248, 5737
Johanna Mair
Published: 20060427
ISBN: 0230625657
Publisher: Springer Nature
---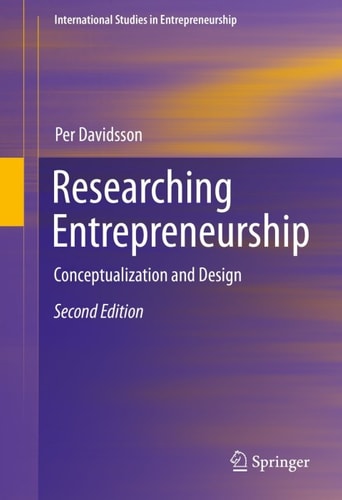 Researching Entrepreneurship
Entrepreneurship, General, Operations Research, Business & Economics -> Management -> Entrepreneurship, Business & Economics -> Economics -> Economic Development, Business & Economics -> Decision Sciences -> Production/Operations Management, SC514000, SCW42000, SCM26024, SUCO41169, 3752, 3031, 3672
Per Davidsson
Published: 20160305
ISBN: 3319266926
Publisher: Springer Nature
---
African Entrepreneurship
Entrepreneurship, General, General, Management, Business & Economics -> Management -> Entrepreneurship, Business & Economics -> Business -> Business Studies, Business & Economics -> Management -> International Business, Business & Economics -> Management -> Principles of Management, SC514000, SC525010, SC525030, SC515010, SUCO41169, 3752, 5543, 3248, 6631, 6642, 3247
Paul Knoepfler
Published: 20180523
ISBN: 3319737007
Publisher: Springer Nature
This book outlines the unique challenges and opportunities of doing business in Africa, analysing how varying degrees of development across its countries affects entrepreneurship. Taking into account historical and cultural contexts, the authors approach the topic by evaluating the different possibilities of business opportunity in Africa. Insightful contributions explore an extensive range of African countries, discussing both formal and informal entrepreneurship, as well as the different factors that influence the growing economy of Africa. African Entrepreneurship will be of interest to anyone researching the potential of doing business in Africa, as well as entrepreneurs and policy-makers looking to expand their knowledge on how businesses are managed in this region.
---
Yang Ming Package Tracking
Shipping > Shipment Tracking
Track your Yang Ming parcel through the online tool at Track a PKG.
---
Understanding Entrepreneurship
Björn Bjerke
Published: 2007
ISBN: 1847200672
Publisher: Edward Elgar Publishing
---
Team Entrepreneurship
Entrepreneurship, Entrepreneurship--Case studies, Organizational effectiveness, Organizational effectiveness--Case studies, HD58.9 .S74 1989, 658.4/2
Stewart, Alex
Published: 1989
ISBN: 0803934947
Publisher: SAGE Publications, Inc
Pt. 1. Setting The Stage For Running Hot -- Pt. 2. Running Hot -- Pt. 3. An Anthropology Of Entrepreneurship. Alex Stewart. Includes Index. Includes Bibliographical References.
---
Contemporary Entrepreneurship
Entrepreneurship, General, Production & Operations Management, Business & Economics -> Management -> Entrepreneurship, Business & Economics -> Economics -> General Economics, Business & Economics -> Decision Sciences -> Production/Operations Management, SC518000, SC514000, SCW53010, SUCO41169, 3752, 3120, 4694, 4071, 7631
Georgi Muskhelishvili
Published: 20160317
ISBN: 3319281348
Publisher: Springer Nature
This book presents the current state-of-the-art in all major and upcoming areas of entrepreneurship research. Thousands of scholars around the world are currently working to broaden our understanding of the entrepreneurial phenomenon. The disciplines involved are numerous, as are the topics of interest, with substantial efforts to enhance the existing knowledge. This book is specifically designed to facilitate high-level, high-intensity discussions and fruitful exchanges between scholars involved in entrepreneurship research. The articles address a variety of topics ranging from self-employment, technology, growth patterns and job creation, and success and failure rates, to historical, conceptual and comparative international approaches. "This book takes entrepreneurship beyond the individual, size of the venture, entrepreneurial personality, and looks at entrepreneurship as a long term complex process that is heterogeneous, content dependent with an emphasis on innovation and growth. A must read for individuals interested in entrepreneurship, today and in the future, on a domestic and global basis." – Robert D. Hisrich, Director – Walker Center and Garvin Professor of Global Entrepreneurship, Thunderbird School of Global Management "Entrepreneurship is perhaps not just the most multifaceted but also the most important concept of the modern socio-economic disciplines. This book makes an invaluable contribution in this fascinating area: it presents a multifaceted socio-economic examination of the impact of entrepreneurship for growth." – Roy Thurik, Erasmus School of Economics in Rotterdam and Montpellier Business School                                      
---
Law for Journalists A Guide to Media Law
Non-Classifiable, General, cs.mgmt.entre, Non-Classifiable -> Non-Classifiable -> Non-Classifiable, Business & Economics -> Accounting -> General Accounting
Philip A. Wickham
Published: 2006
ISBN: 1408212676
Publisher: Pearson International Content
The text offers an up-to-date, accessible and rigorous examination of a strategic approach to entrepreneurial management and emphasises its distinction from small business management. The text integrates both conceptual and practical ideas from a broad grounding within wider economic, psychological and other social science disciplines.
The book is written in a clear style, with coherent and logical organisation of themes, and effective visualisation of key ideas to facilitate students' learning and lecturers' course planning & delivery. It provides comprehensive coverage of the fast-growing field of entrepreneurship teaching and research.
---
Female Entrepreneurship
General, Entrepreneurship, Management, Women's Studies, Business & Economics -> Management -> Entrepreneurship, Business & Economics -> Business -> Business Studies, Business & Economics -> Management -> Principles of Management, SCEB0355, SCEB033010, SCAS3590, Social Sciences -> Sociology -> Woman Studies
Nancy M. Carter; Colette Henry; Barra O. Cinneide; Kate Johnston
Published: 20060927
ISBN: 1134228651
Publisher: Taylor & Francis
This informative book is a comprehensive, research-based text on for educators, trainers and policy makers.  It provides an insightful analysis into the range of issues facing female entrepreneurs around the world, along with recommendations as to how support agencies, educators and trainers can best respond to the challenge of encouraging more women to get involved in the new business creation. Based on a collection of research papers from international scholars based in the UK, mainland Europe, the USA and Australia, it provides a superbly comprehensive analysis of the challenges and opportunities faced by female entrepreneurs worldwide. With contributors from Sara Carter, Candida Brush, John Watson and Elisabet Ljunggren, the book helps advance the general understanding of female entrepreneurship and helps set a research agenda on how best to promote female owned/led businesses nationally and internationally.
---
Strategic-entrepreneurship
Philip A. Wickham
Published: 2006
ISBN: 027370642x
Publisher: Prentice Hall
Strategic Entreprenuership
Fourth Edition
Philip A Wickham
'Wickham's real strength is in offering balanced and clear introductions to a wide range of topics – the text covers more areas than I think any other entrepreneurship text at this level.'
Laura Wilson, Southampton University
'Strategic Entrepreneurship is so clearly written, covers all the important ground, and suggests excellent supporting material in the further reading bibliographies.'
Pegram Harrison, Regents College, London
'This is a great book. It really is one of the best entrepreneurship books I have seen. A great deal of useful information is covered and the cases and the discussion points are particularly valuable.'
Roberto Flören, Nyenrode University
How do you define entrepreneurship? When and where can you identify and benefit from entrepreneurial behaviour and management style? What contribution does entrepreneurship make to economic development and social responsibility?
The fourth edition of Strategic Entrepreneurship addresses these issues with an up-to-date, accessible and rigorous examination of the theory, research and practice of entrepreneurship in all types and sizes of organisations. It includes coverage on contemporary topics such as:
Intrapreneurship and corporate entrepreneurship;
Social, not-for-profit and public enterprise;
Entrepreneurship and its role in economic development;
Research Themes & Key Readings to encourage further study;
Recent articles from the Financial Times.
Strategic Entrepreneurship has been written for those studying entrepreneurship as part of any degree or management course. The book presents a clear style, logical organisation of themes, and a critical discussion of key ideas.
Philip A Wickham is Research Fellow at Leeds University Business School. He is also the author of two other Financial Times Prentice Hall textbooks: Management Consulting (2004) and the Financial Times Corporate Strategy Casebook (2000).
---
Global Entrepreneurship Environment and Strategy
Entrepreneurship, Marketing, New Business Enterprises, Small Business, Management, General, Business & Economics -> Management -> Entrepreneurship, Business & Economics -> Management -> International Marketing, Business & Economics -> Management -> Small Business Management, Business & Economics -> Management -> Principles of Management, Business & Economics -> Business -> Business Studies, SCEB033010, SCEB0341
Nir Kshetri
Published: 20180907
ISBN: 0429859376
Publisher: Taylor & Francis
This second edition of a Choice Outstanding Academic Title improves coverage of the global environments in which entrepreneurs operate. In Global Entrepreneurship: Environment and Strategy, Nir Kshetri explores and illuminates the economic, political, cultural, geographical, and technological environments that affect entrepreneurs as they exploit opportunities and create value in economies around the world. Grounded in theory, the book begins by laying out the concepts, indicators, and measurements that have unique impacts on entrepreneurs in different regions. This framework sets the scene for a close examination of global variations in entrepreneurial ecosystems and finance. Kshetri methodically examines entrepreneurship patterns in diverse economies through the lenses of economic system, political system, culture and religion, and geography (both by country and continent) – and for the first time, includes an entire chapter on entrepreneurship in Latin America. All new for this edition, Global Entrepreneurship offers case studies at the end of each chapter to illustrate relevant concepts, as well as two detailed cases in an appendix, to encourage broader reflection.
---
Effectual Entrepreneurship
Entrepreneurship, New business enterprises, Success in business, HB615 .E453 2011, 658.1/1
Stuart Read, Saras Sarasvathy, Nick Dew, Robert Wiltbank, Anne-valérie Ohlsson
Published: 2011
ISBN: 0203836901
Publisher: Routledge
Whether You're Dreaming About Starting A Business, Learning About Entrepreneurship, Or On The Brink Of Creating A New Opportunity Right Now, Don't Wait. Open This Book. Inside You Will Find Everything You Need. This Book Contains: A Vivid New Way To Learn About And To Practice Entrepreneurship. Practical Exercises, Questions And Activities For Each Step In Your Process. Specific Principles Derived From The Heuristics Of Expert Entrepreneurs. 70+ Case Briefs Of Entrepreneurs Across Industries, Geographies And Time. Applications To Social Entrepreneurship As Well As The Creation Of Opportunities In Large Enterprises. Data That Will Challenge Assumptions You Might Have About Entrepreneurship. A Broader Perspective About The Science Of Entrepreneurship And Implications For How Individuals Can Shape Their Own Situation. You Will Find These Ideas Presented In A Concise, Modular, Graphical Form, Perfect For Those Learning To Be Entrepreneurs Or Already In The Thick Of Things. If You Want To Learn About Entrepreneurship In A Way That Emphasizes Action, This Book Is For You. If You Have Already Launched Your Entrepreneurial Career And Are Looking For New Perspectives, This Book Is For You. Even If You Are Someone Who Feels Your Day Job Is No Longer Creating Anything Novel Or Valuable, And Wonders How To Change It, This Book Is For You. Anyone Using Entrepreneurship To Create The Change They Want To See In The World Will Find A Wealth Of Thought-provoking Material, Expert Advice, And Practical Techniques Inside. Myth: Entrepreneurs Are Visionaries -- I Don't Have A Good Idea -- Myth: Entrepreneurs Are Risk Takers -- I Don't Have Enough Money -- Myth: Entrepreneurs Are Extraordinary Forecasters -- I Don't Know How To Take The Plunge -- Myth: Entrepreneurs Are Not Like The Rest Of Us -- I'm Human; I'm Afraid Of Failing -- The Bird-in-hand Principle: Start With What You Have -- Worldmaking: Understand Transformation -- The Affordable Loss Principle: Risk Little, Fail Cheap -- Financing: Bootstrap The Venture -- The Crazy Quilt Principle: Form Partnerships -- Ownership And Control: Manage Investors -- The Lemonade Principle: Leverage Surprise -- Business Plans And Business Models: Make Pitches -- Venture Identity: Build Brand -- The Pilot-on-the-plane Principle: Apply Non-predictive Control -- When The Venture Grows Up -- Entrepreneurship As A Technology For Social Change. Stuart Read ... [et Al.]. Includes Bibliographical References And Index.
---
Social Entrepreneurship
Internet, English & College Success -> English -> Juvenile Non-Fiction
Terry Teague Meyer
Published: 20140715
ISBN: 1477776524
Publisher: Rosen Publishing
Computers, portable digital devices, social networking, crowdfunding, and other digital technologies make it possible for social entrepreneurs to solve problems far from their own neighborhoods. This unique resource provides detailed information about using new technology and online information to help readers turn dreams of a better world into reality. Solving social problems is easier with the information and resources to plan ahead, organize a team, get the word out, and find the money needed to make it happen. Readers will find out exactly how to do all of these things right here.
---
Rethinking Entrepreneurship Debating Research Orientations
General, Entrepreneurship, Business & Economics -> Business -> Business Studies, Business & Economics -> Management -> Entrepreneurship, SCEB0150, SCEB033010, SCEB0392, SCEB033020
Alain Fayolle
Published: 20150916
ISBN: 1317623258
Publisher: Taylor & Francis
Entrepreneurship is a growing field of research, attracting researchers from many different disciplines including economics, sociology, psychology, and management. The concept of entrepreneurship, and research in the field, is becoming institutionalized, increasingly oriented by influential trends, theories and methods, following the mainstream and being shaped accordingly. The objective of this book is to move beyond mainstream approaches and assumptions which are dominating the field, and to raise questions about the nature and process of entrepreneurship research. Over twelve chapters, leading international thinkers in the field debate the impact and the consequences of institutionalization. Taking key research orientations including multidisciplinarity, international entrepreneurship, social entrepreneurship, and ethics, it takes a critical and constructive and sometimes controversial posture and encourages a re-examination of the way we look at the social and economic phenomenon of entrepreneurship. This book is vital reading for entrepreneurship researchers and educators, advanced students and policy-makers in Entrepreneurship, Economics, Sociology and Psychology.
---
[Page 5] [Page 6] [Page 7] [Page 8] [Page 9] [Page 10] [Page 11] [Page 12] [Page 13] [Page 14] [Page 15] [Page 16] [Page 17] [Page 18] [Page 19]