Business Development Books [Page 11 of 263]
Dimensions Of African Business And Development
Industrial Management, Economic Conditions, Economic Policy
Nwankwo, Sonny.
Published: C2003
ISBN: 0863399738
Publisher: Sheffield Hallam University Press
---
Alternative Approaches To Financing Business Development
Murphy
Published: 1989
ISBN: 9991503064
Publisher: Council For Urban Economic
---
English For Business Communication And Development
David Bryden
Published: 2007
ISBN: 0955488206
Publisher: London School Of Management Ltd
---
Dynamics of Business, Economics & Entrepreneurship Development
Chinmoy Roy & Ashish K. Chaudhari
Published: 2016
ISBN: 9384161950
Publisher:
---
Ethics in Business: Professional Development Series
Bennett, Carol
Published: 2002-08-19T00:00:01Z
ISBN: 0538726164
Publisher: South-Western Educational Pub
---
The Institutional Development of Business Schools
Published: 2015-01-13T00:00:01Z
ISBN: 0198713363
Publisher: Oxford University Press
---
Wheels Up: Airline Business Plan Development
Wensveen, John G.
Published: 2004
ISBN: 0534393543
Publisher: Brooks Cole
---
BUS 5601: Essentials of Business Development
Warren, Reeve, Duchac, Gwartney, Stroup, Macpherson, Scott, Pride, Ferrell, Mcguigan, Moyer, Harris
Published: 2021
ISBN: 1305289749
Publisher: Cengage Learning
---
Development Of Japanese Business, 1600-1980
Businesspeople, Commerce, History, Industrial management, Business, Histoire, Management, Economic conditions, Geschichte, Industrie, Gestion d'entreprise, Hommes d'affaires, Businessmen
Johannes Hirschmeier
Published: 2018
ISBN: 042977012X
Publisher: Taylor & Francis Group
---
Organization and Development of Russian Business
Microeconomics, Industrial Management, Economics, General, Organizational Behavior, Management Science, Business & Economics -> Economics -> Principles of Microeconomics, Business & Economics -> Decision Sciences -> Management Science, Business & Economics -> Economics -> International Economics, Business & Economics -> Economics -> Economic Development, Business & Economics -> Management -> Organizational Behavior, SCW31000, SCW31010, SCW33000, SCW42000, SCW54000, SC500000, SUCO41136, 4026, 4091, 3422, 3031, 5036, 3120, 4587
Tatiana Dolgopyatova; Ichiro Iwasaki; Andrei A. Yakovlev
Published: 20090716
ISBN: 0230249493
Publisher: Springer Nature
---
CEVA Package Tracking
Shipping > Shipment Tracking
Track your CEVA parcel through the online tool at Track a PKG.
---
The Business of Android Apps Development
Data Processing, Professional, Career & Trade -> Computer Science -> Data Processing, SCI29060, SCI23001, SUCO12059, 5870, 3121
Mark Rollins
Published: 20120201
ISBN: 1430239433
Publisher: Springer Nature
The growing but still evolving success of the Android platform has ushered in a second mobile technology "gold rush" for apps developers, but with well over 100,000 apps and counting in the Google Android Market and now the Amazon Android Appstore, it has become increasingly difficult for new applications to stand out in the crowd. Achieving consumer awareness and sales longevity for your Android app requires a lot of organization and some strategic planning. Written for today's Android apps developer or apps development shop, The Business of Android Apps Development shows how to incorporate marketing and business savvy into every aspect of the design and development process, giving your application the best possible chance of succeeding in the the various Android app stores and markets. This book takes you step-by-step through cost-effective marketing, public relations and sales techniques that have proven successful for professional Android app creators and indie shops—perfect for independent developers on shoestring budgets. No prior business knowledge is required. This is the book you wish you had read before you launched your first app!
---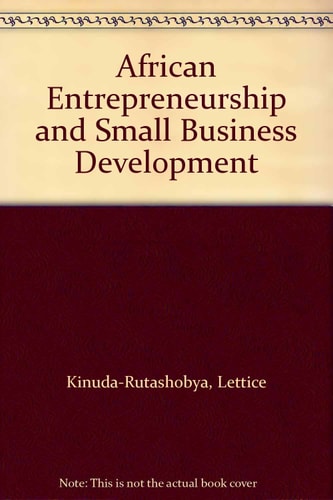 African Entrepreneurship And Small Business Development
Lettice Kinuda-rutashobya, Donath Raphael Olomi
Published: 1999
ISBN: 9976603177
Publisher: Dar Es Salaam Univ Pr
Edited By Lettice Kinunda-rutashobya And Donath R. Olomi. Revised, Extended And Edited Versions Of Papers That Were Presented At An International Conference ... Dar Es Salaam, Tanzania In October, 1997. The Conference Was Organised By The Faculty Of Commerce And Management Of The University Of Dar Es Salaam, Tanzania--pref, Includes Bibliographical References And Index.
---
State-Business Alliances and Economic Development
General, Regional Studies, Social Sciences -> Social Sciences -> Ethnic Studies, SCAS6535, SCEB0145, SCAS65, Social Sciences -> Social Sciences -> Regional Studies
Işık Özel
Published: 20140807
ISBN: 1317817818
Publisher: Taylor & Francis
This book argues that a key dynamic behind economic development in the emerging markets is the coordination between the state and businesses. Exploring the links between institutions, state--business alliances and economic development in the context of tumultuous market transitions since the 1980s, the book tackles the formation and sustainability of coordination-inducing institutions besides their mere existence, and points out the new modalities of coordination in the age of new developmentalism. Based on extensive original research in Turkey and Mexico embedded in a comparative historical analysis, the book shows how state--business alliances have been formed, collapsed and re-formed between the respective states and shifting business actors since the launching of market transitions. It demonstrates how both the state and business actors, and their cohesiveness vs. fragmentation, play crucial roles in the making and sustainability of the institutions, which are central to state--business alliances. It explores the emergence of new actors, the diversification of the organizational landscape, and the evolution of the ways in which the states interact with businesses throughout major economic and political transformations that helped transform the respective states and their interactions with the non-state actors. It draws on the meandering developmental trajectories of Turkey and Mexico from the 1970s to the present and goes on to draw some lessons for institution-building and market reforms in selected countries in North Africa.
---
Market Management and Project Business Development
Smyth, Hedley
Published: 2014
ISBN: 0415705096
Publisher: Routledge
Market Management and Project Business Development is a guide to the theory and practice of marketing and selling projects in business. Successfully marketing and selling a project to investors is so crucial an element of project management that it dictates whether the project is funded, and as a result, whether it can go ahead. But marketing and promotion are often not part of the competent project manager's skills set. Moreover, most books available are limited to the selling of construction projects, leading to potential blind spots in this area for students, specialists and practitioners which have potential to threaten the success of real-life projects on the ground. This book is the first of its kind to provide a set of key principles and guidelines to marketing all types of projects to all types of customers, both B2B and B2C, setting out a range of theoretical developments and applying them throughout to practical scenarios and cases to link theory to practice. Smyth structures his guide through the stages in the process of marketing a project from its inception all the way through to its launch to market, including: the marketing mix, relationship marketing and its project marketing variant, entrepreneurial marketing and the service-dominant logic. This book is valuable reading for all students and specialists in project management, as well as project managers in business, management, the built environment, or indeed any industry--
---
New business development A Complete Guide
General, Business & Economics -> Business -> Business Studies
Gerardus Blokdyk
Published: 2018
ISBN: 0655136517
Publisher: Emereo
Who is the main stakeholder, with ultimate responsibility for driving New business development forward? What is the total cost related to deploying New business development, including any consulting or professional services? ask yourself: are the records needed as inputs to the New business development process available? Is the New business development organization completing tasks effectively and efficiently? Is there a recommended audit plan for routine surveillance inspections of New business development's gains?
This extraordinary New business development self-assessment will make you the dependable New business development domain veteran by revealing just what you need to know to be fluent and ready for any New business development challenge.
How do I reduce the effort in the New business development work to be done to get problems solved? How can I ensure that plans of action include every New business development task and that every New business development outcome is in place? How will I save time investigating strategic and tactical options and ensuring New business development costs are low? How can I deliver tailored New business development advice instantly with structured going-forward plans?
There's no better guide through these mind-expanding questions than acclaimed best-selling author Gerard Blokdyk. Blokdyk ensures all New business development essentials are covered, from every angle: the New business development self-assessment shows succinctly and clearly that what needs to be clarified to organize the required activities and processes so that New business development outcomes are achieved.
Contains extensive criteria grounded in past and current successful projects and activities by experienced New business development practitioners. Their mastery, combined with the easy elegance of the self-assessment, provides its superior value to you in knowing how to ensure the outcome of any efforts in New business development are maximized with professional results.
Your purchase includes access details to the New business development self-assessment dashboard download which gives you your dynamically prioritized projects-ready tool and shows you exactly what to do next. Your exclusive instant access details can be found in your book.
---
Strengths-Based HPI A Win-Win for All
Robert Brodo
Published: 2018-04-01
ISBN: 1949036421
Publisher: Association for Talent Development
It's critical for talent development professionals to be able to play an influential role in an organization's strategy development and execution. To do this, they need to be able to speak the business language and translate their knowledge into solutions that drive business results. In "Business Acumen Basics for Talent Development, " Robert Brodo arms talent development professionals with the critical skills and tools they'll need to think strategically and make informed business decisions. This issue of TD at Work includes: • guidance on how to build better business acumen and learn the business challenges and opportunities for internal customers and stakeholders • tips on how to engage in business dialogue with leaders and stakeholders • information on how to use business knowledge to challenge beliefs and assumptions • questions to consider before conversing with stakeholders or leaders • a business SWOT analysis template.

---
Business Development: A Market-Oriented Perspective
Business & Economics
Sørensen, Hans Eibe
Published: 2012
ISBN: 047068366X
Publisher: Wiley
---
Migration, Remittances, And Small Business Development
Published: 2021
ISBN: 0367166518
Publisher: Routledge
---
Acoa And Community Business Development Corporations: Building Stronger Communities: Business Assistance
Published:
ISBN: 0662628306
Publisher: Atlantic Canada Opportunities Agency
---
Business Information Systems: Development And Implementation
Badie Farah
Published: 1990
ISBN: 0536577676
Publisher: Ginn Press
---
[Page 4] [Page 5] [Page 6] [Page 7] [Page 8] [Page 9] [Page 10] [Page 11] [Page 12] [Page 13] [Page 14] [Page 15] [Page 16] [Page 17] [Page 18]