Competition Books [Page 5 of 478]
Fierce Competition
Roeder, Mark A., Roeder, Mark A.
Published: 2012
ISBN: 1475267835
Publisher: CreateSpace Independent Publishing Platform
---
The Competition
Saia, Francisco
Published: 2021
ISBN: 847017309X
Publisher: Independently published
---
The Competition
Women Sleuths, Thrillers, Crime, Suspense, English & College Success -> English -> Fiction
Marcia Clark
Published: 20140708
ISBN: 0316220981
Publisher: Hachette
In Marcia Clark's most electrifying thriller yet, Los Angeles District Attorney Rachel Knight investigates a horrifying high school massacre. A Columbine-style shooting at a high school in the San Fernando Valley has left a community shaken to its core. Two students are identified as the killers. Both are dead, believed to have committed a mutual suicide. In the aftermath of the shooting, LA Special Trials prosecutor Rachel Knight teams up with her best girlfriend, LAPD detective Bailey Keller. As Rachel and Bailey interview students at the high school, they realize that the facts don't add up. Could it be that the students suspected of being the shooters are actually victims? And if so, does that mean that the real killers are still on the loose? A dramatic leap forward in Marcia Clark's highly acclaimed Rachel Knight series, The Competition is an unforgettable story that will stay with readers long after the last page has been turned.
---
Competition Grid Experimenting With and Within Architecture Competitions
Maria Theodorou, Antigoni Katsakou
Published: 2019
ISBN: 1000701352
Publisher: RIBA Publishing
The Competition Grid: Experimenting With and Within Architecture Competitions is a comprehensive review of architectural competitions. Each section features international research overviews as well as lively discussions with experts that draw on first-hand experience of the competition process.

---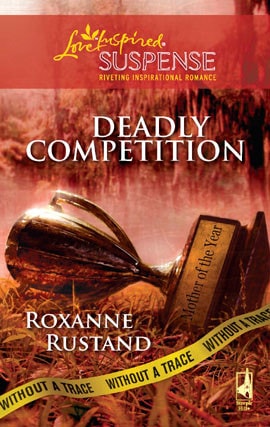 Deadly Competition
Roxanne Rustand
Published: 2009
ISBN: 1426833156
Publisher: Steeple Hill
The Single Mother Hasn't Been Found. And All Her Daughter, Sarah, Has Is Her Uncle. Clueless At Parenting, Clint Herald Seeks A Loving, Responsible Nanny. What He Finds Instead Is A Stranger As Mysterious As His Sister's Disappearance. Mandy Erick Is Secretive And Seems Scared, Yet She's So Good With Sarah That Clint Can't Help But Trust Her. In Fact, He Even Enters Mandy In The Town's Mother Of The Year Contest. But Attention Is The Last Thing Mandy Wants. Her Time In The Public Eye May Prove Just As Dangerous As She Fears.
---
Competition Law
Antitrust, Professional, Career & Trade -> Law -> Law
Richard Whish; David Bailey
Published: 20210826
ISBN: 0192607138
Publisher: Oxford University Press Academic UK
Whish and Bailey's Competition Law is the definitive textbook on this subject. An authoritative treatment of competition law is paired with an easy-to-follow writing style to make this comprehensive guide essential reading for law students, practitioners, and officials. The authors explain the purpose of competition policy, introduce the reader to key concepts and techniques in competition law, and provide insights into the numerous issues that arise when analysing market behaviour. Describing the law in its economic and market context, they particularly consider the competition law implications of business phenomena such as distribution agreements, licences of intellectual property rights, cartels, joint ventures, and mergers. The book assimilates a wide variety of resources, including judgments, decisions, guidelines, and periodical literature. This definitive guide to competition law is regularly used in universities, law firms, economic consultancies, competition authorities and courts. Digital formats and resources: The tenth edition is available for students and institutions to purchase in a variety of formats. The e-book offers a mobile experience and convenient access along with functionality tools, navigation features, and links that offer extra learning support: www.oxfordtextbooks.co.uk/ebooks
---
Employee Competition
Labor & Employment, Litigation, Professional, Career & Trade -> Law -> Law
Paul Goulding QC
Published: 20160317
ISBN: 0191071749
Publisher: Oxford University Press Academic UK
Employee Competition: Covenants, Confidentiality, and Garden Leave is a leading authority for employment law practitioners and human resource professionals alike. It provides detailed and comprehensive analysis of the issues encountered in contentious and non-contentious work concerning all forms of competition by employees, directors, partners, LLP members, and others. Cited in numerous judgments, this work is widely recognised as the first port of call for all employee competition cases. Written by a team of expert practitioners from Blackstone Chambers and Olswang, the book combines an authoritative account of the substantive law with an overview of the relevant procedural issues. Topics covered include good faith, fiduciary duties, confidential information, garden leave, and restrictive covenants. Comprehensive coverage of available remedies (including injunctions, damages, and account of profits) ensures that the book is of real, practical value to practitioners. This new edition has been substantially revised to take into account the wealth of litigation and resulting case law that has emerged since the previous edition published in 2011. A new chapter on economic torts and liabilities has been included to reflect the increasing importance of this area in practice. Significant changes will also be covered in the areas of contractual and fiduciary duties of loyalty; confidentiality and database rights; restrictive covenants and deferred remuneration schemes; jurisdiction and applicable law; liquidated damages and penalties; and procedure, especially in relation to injunction applications, disclosure and costs. Containing checklists at the end of each chapter, as well as appendices identifying key decisions in the field, and providing invaluable guidance on computer forensic investigations, forensic accounting, competition law, US law, sample clauses, pre-action letters and advice on drafting restrictive covenants, this work provides a practical and user-friendly guide to employment covenants. Employee Competition Bulletins providing updates on new cases and other topics covered in the book are available on the Blackstone Chambers website at http://www.blackstonechambers.com/practice_areas/employment. html
---
Competition Litigation
Antitrust, Military, Professional, Career & Trade -> Law -> Law
Mark Brealey QC; Kyla George
Published: 20190704
ISBN: 0191665495
Publisher: Oxford University Press Academic UK
An indispensable work for competition lawyers in the UK, this book provides a comprehensive guide to all aspects of competition litigation, drawing on the wealth of combined experience of barristers. It covers both practice and procedure in the UK courts as well as the Competition Appeal Tribunal. All aspects of case work are covered from commencement of proceedings to remedies, quantum issues, costs, arbitration, mediation and criminal proceedings giving competition lawyers a full analysis of the litigation process. Fully updated in its second edition, coverage is updated to reflect the coming into force of the Treaty of Rome and the Treaty of Lisbon. Updates include coverage of a range of important new case law. Discussion is given of the AkzoNobel case denying privilege for in-house counsel communications; Emerald Supplies Ltd & Anor v British Airways Plc providing further guidance on representative actions in English courts; Cooper Tire & Rubber Company Europe Ltd and Others v Dow Deutschland Inc and Others setting out the jurisdiction of English courts in damages claims; and consideration in the BCL case of time limits under section 47A claims. Other cases considered include BAA v Competiton Commission and R v George & Others. The updated work also considers the increasing move towards electronic disclosure.
---
European Competition
General, General, Business & Economics -> Business -> Business Studies, SCLW07, SCLW34, Business & Economics -> Business -> Industries
F.J.L. Somers; K.E. Davis-Ost; J.E. Frencken; E. Heuten
Published: 20191115
ISBN: 1000035174
Publisher: Taylor & Francis
Europe is increasingly becoming an everyday reality for many companies, not only for large corporations but small and medium-sized enterprises as well. European Competition offers students an introduction to the field of competition, cooperation and competition policy in the EU. To increase students' understanding of the workings of the Internal Market, most chapters start with case-studies. The book focuses on the subject areas economics and law and is written from both a business and a social/legal perspective. European Competition is an essential introductory textbook for students at both undergraduate and graduate levels in a wide range of degree and professional programmes. Including Economics, MBA and Law. It is of particular relevance to students interested in the European context of these disciplines and can be used as a core textbook for courses in European Integration or Business and International Environment in Europe and other parts of the world. This text is complementary to the book European Business Environment.
---
True Competition
David Light Shields, Brenda Light Bredemeier
Published: 2009
ISBN: 1492583316
Publisher: Human Kinetics
The E-book For True Competition: A Guide To Pursuing Excellence In Sport And Society Is Available At A Reduced Price And Allows Students To Highlight And Take Notes Throughout The Text. When Purchased Through The Human Kinetics Site, Access To The E-book Is Immediately Granted When The Order Is Received. True Competition: A Guide To Pursuing Excellence In Sport And Society Offers A Blueprint For Maximizing The Potential Of Competition To Foster Excellence And Enjoyment. It Provides A Novel Perspective On Competition That Challenges Traditional Beliefs Through A Research-backed Defense That—up Until Now—has Been Lacking. With This Text, Readers Will Learn The Differences Between Positive And Negative Competition, And They Will Discover How To Implement Change In Their Organizations, Teams, And Individual Practices. The Authors Of This Groundbreaking Book, Who Are Leading Experts In Sport Psychology, Redefine What Competition Is And Should Be. Unlike The More Typical And Often Socially Destructive Form Of Competition—which They Call Decompetition—true Competition Brings Out Excellence In Participants, Fosters Positive Character Development, And Leads To Lasting Enjoyment. This Socially And Psychologically Positive Perspective On Competition Challenges Alfie Kohn's No Contest: The Case Against Competition, Which Has Been Called The Definitive Critique Of Competition. The Authors Propose That Competition Itself Is Not Problematic; Rather, They Question How Competition Is Sometimes Envisioned, Interpreted, And Implemented. They Provide Suggestions For Achieving Positive Outcomes From Competition, Including Creating Challenging Yet Supportive Environments In Sport Programs And Teams, Fostering The Well-being Of Athletes, And Encouraging Athletes To Handle Various Situations. The Research-based Text Uses A Field-guide Approach, In Which The Components Of True Competition Are Presented In Chapter 3 And Then Detailed In The Following Chapters. This Approach Helps Readers Understand Competition And How It Is Being Used In Their Own Lives. While The Book Relies Heavily On The Arena Of Sports, It Also Provides Many Examples Of Applying This Revised Understanding Of Competition In Business, Education, Politics, And Other Nonsport Environments. To Enhance The Learning Experience, True Competition Offers The Following Features: -a Scholarly Analysis Of Competition Is Presented In A Clear And Engaging Writing Style, Making The Provocative Concepts Easily Accessible To Any Reader. -engaging Sidebars Give Examples Of How True Competition Has Been Created In Various Environments To Shorten The Implementation Curve For Readers. -q&a Sidebars Pose Practical Questions To Ponder—just As A Parent, Coach, Or Official Would—and Prepares Readers For Issues They Will Confront In The Field. By Applying The Information Presented In This Text, Students, Professionals, And Athletes Will Learn How To Maximize The Benefits Of Competition By Avoiding Decompetition. Not Only Will They Understand How To Recognize And Respond To Positive And Negative Forms Of Competition, But They Also Will Gain The Tools They Need In Order To Promote True Competition In Their Own Worlds. Instructions For Downloading And Accessing The E-book Will Be Provided Once The Order Is Complete. Adobe Digital Editions® System Requirements Windows -microsoft® Windows® 2000 With Service Pack 4, Windows Xp With Service Pack 2, Or Windows Vista® (home Basic 32-bit And Business 64-bit Editions Supported) -intel® Pentium® 500mhz Processor -128mb Of Ram -800x600 Monitor Resolutionmac Powerpc -mac Os X V10.4.10 Or V10.5 -powerpc® G4 Or G5 500mhz Processor -128mb Of Ram Intel® -mac Os X V10.4.10 Or V10.5 -500mhz Processor -128mb Of Ram Supported Browsers And Adobe Flash Versions Windows -microsoft Internet Explorer 6 Or 7, Mozilla Firefox 2 -adobe Flash® Player 7, 8, Or 9 (windows Vista Requires Flash 9.0.28 To Address A Known Bug)mac -apple Safari 2.0.4, Mozilla Firefox 2 -adobe Flash Player 8 Or 9 Supported Devices -sony® Reader Prs-505 Language Versions -english -french -german
---
UPS Package Tracking
Shipping > Shipment Tracking
Track your UPS parcel through the online tool at Track a PKG.
---
Global competition: what's at stake, where we stand
competition international, export marketing united states, industry and state united states, technology and state united states, united states commercial policy
Young, John Frederick
Published:
ISBN: 088748025X
Publisher: Carnegie-Mellon University Press
---
No Competition
Debbie Macomber
Published: 2013
ISBN: 1469255243
Publisher: Brilliance Audio
---
Airline-competition
U. S. Government Accountability Office (
Published: 2013
ISBN: 1289032327
Publisher:
---
Handgun Competition
George C. Nonte
Published: 1978
ISBN: 0832925365
Publisher: New Win Pub
---
Virtual Competition
Ariel Ezrachi, Maurice E. Stucke
Published: 2016
ISBN: 067497333x
Publisher:
---
Sweet Competition
Reed, Liz, Reed, Jimmy
Published: 2016-11-01T00:00:01Z
ISBN: 0062403591
Publisher: HarperCollins
---
Unlawful Competition
Competition, Unfair
Van Heerden, H. J. O., Neethling, J.
Published: 2008
ISBN: 0409023957
Publisher: Lexisnexis
---
sandhurst-competition
Political Science
Lambert M. Surhone
Published: June 2011
ISBN: 613619113X
Publisher:
---
Spirits-competition
Isidoros Krastyo Morpheus
Published: 2011
ISBN: 6137807274
Publisher:
---
Competition Game: Players Mnl (B/D) 3.5
business investing management leadership leadership
Published:
ISBN: 013146101X
Publisher: Prentice Hall PTR
---
[Page 1] [Page 2] [Page 3] [Page 4] [Page 5] [Page 6] [Page 7] [Page 8] [Page 9] [Page 10] [Page 11] [Page 12] [Page 13] [Page 14] [Page 15]