Stocks Books [Page 6 of 118]
100 Best Stocks (2005)
Slatter, John
Published: 2004-09-27T00:00:01Z
ISBN: 1593371020
Publisher: Adams Media
---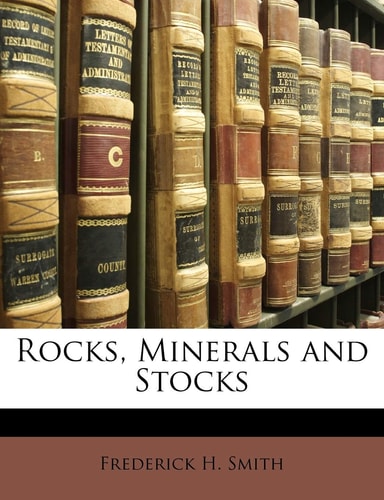 Rocks, Minerals And Stocks
Frederick H. Smith
Published: 2010
ISBN: 114621555x
Publisher: Nabu Press
---
Penny Stocks For Dummies
Peter Leeds
Published: 2019T
ISBN: 812657903X
Publisher: WILEY
---
Death in the Stocks
Georgette Heyer
Published: 2006T
ISBN: 0099550342
Publisher: 0
---
Death in the Stocks
Fiction, Mystery & Detective
Georgette Heyer
Published: 1986
ISBN: 055314085X
Publisher: Berkley Pub Group
---
Collecting Stocks And Bonds
George Labarre
Published: 1981
ISBN: 0941538001
Publisher: George H Labarre Galleries
---
Getting Started In Stocks
Stocks, Investments
Hall, Alvin D.
Published: 1992
ISBN: 0471544906
Publisher: Wiley
---
Morningstar Stocks 500: 2007
Morningstar Inc., Mike Porter
Published: 2007
ISBN: 0471786659
Publisher: Wiley
---
J.k.lassers Pick Winning Stocks
Published:
ISBN: 0028638166
Publisher: John Wiley & Sons Inc
---
Handbook Of Common Stocks
Brad A. Armbruster, Reggie D. Cain, Stacy M. Cleeland, Michael A. Golden
Published: 1999
ISBN: 1564290298
Publisher: Mergent Fis
---
Ninja Van Package Tracking
Shipping > Shipment Tracking
Track your Ninja Van parcel through the online tool at Track a PKG.
---
Divorce and Domestic Relations Litigation Financial Adviser's Guide
Lawrence Carrel
Published: 2010-04-15
ISBN: 0470637013
Publisher: Wiley
---
The Basics Of Stocks
Stocks, Investments, Stock exchanges
Krefetz, Gerald.
Published: 2005
ISBN: 8170944481
Publisher: Orient Paperbacks,india
---
How to Buy Stocks
Engel, Louis, with Peter Wyckoff
Published: 1981
ISBN: 0553201417
Publisher: Bantam Books
---
Etat dynamique des stocks
General, Literary, English & College Success -> English -> Fiction, 154
Alain Wegscheider
Published: 20030312
ISBN: 2702147089
Publisher: Hachette
---
Mastering Stocks and Broths
Soups & Stews, Sauces & Dressings, General, Professional, Career & Trade -> Culinary & Hospitality -> Cooking, Professional, Career & Trade -> Culinary & Hospitality -> Special Topics, FD
Rachael Mamane
Published: 20170620
ISBN: 1603586571
Publisher: Chelsea Green Publishing
2018 James Beard Foundation Book Award Finalist, "Single Subject" Category "Top Ten Cookbook of 2017"—Booklist Stocks and broths are the foundation of good cooking, yet information on their use is often relegated to the introductions or appendices of cookbooks. Until now there has not been a comprehensive culinary guide to stocks in the canon, save for snippets here and there. Hard to believe, since most passionate home cooks and professional chefs know that using stocks and broths—both on their own and as the base for a recipe—can turn a moderately flavorful dish into a masterpiece. Mastering Stocks and Broths is the comprehensive guide to culinary stocks and broths that passionate home cooks and innovative chefs have all been waiting for. Rachael Mamane, a self-taught cook and owner of small-scale broth company Brooklyn Bouillon, is reminiscent of M. F. K. Fisher, Patience Gray, and Julia Child. She takes us on a culinary journey into the science behind fundamental stocks and the truth about well-crafted bone broths, and offers over 100 complex and unique recipes incorporating stocks as foundational ingredients. Mastering Stocks and Broths includes a historical culinary narrative about stocks in the classic French technique as well as through the lens of other cultures around the world. Readers will learn about the importance of quality sourcing, the practical and health benefits of stocks and broths, and detailed methodology on how to develop, store, and use them in a home kitchen. The recipes place a playful emphasis on the value of zero waste, turning spent bones, produce seconds, and leftover animal fats into practical products to use around the home. Readers will turn to this book when they find themselves wondering what to do with the carcass of a store-bought roast chicken and they want to learn how to make every inch of their vegetables go further. Perhaps most important to remember: a good stock takes time. This is part of the pleasure—making stocks is meditative and meaningful, if you allow yourself the occasion. Building a stock often happens in the background of most kitchens—a smell that permeates a residence, a gentle warmth that radiates from the kitchen. Readers will be inspired by Mamane's approach to truly slow cookery and her effervescent love for food itself.
---
Top Resource Stocks 2008
Allan Trench, Mickey Thompson, Leonard Lau
Published:
ISBN: 0731407458
Publisher:
---
Dividend Stocks For Dummies
Lawrence Carrel
Published: 2010
ISBN: 0470635908
Publisher: John Wiley & Sons
Expert Advice On A Mature, Reliable Way To Invest Money According To Fortune Magazine, Investing In Dividends Is One Of The Top Five Ways To Survive Market Instability. Dividend Stocks For Dummies Gives You The Expert Information And Advice You Need To Successfully Add Dividends To Your Investment Portfolio, Revealing How To Make The Most Out Of Dividend Stock Investing-no Matter The Type Of Market. Explains The Nuts And Bolts Of Dividends, Values, And Returns Shows You How To Effectively Research Companies, Gauge Growth And Return, And The Best Way To Manage A Dividend Portfolio Provides Strategies For Increasing Dividend Investments Weather A Down Market-reach For Dividend Stocks For Dummies!
---
How to Buy Stocks
Capitalism--Religious aspects--Christianity, World politics, World politics--20th century, BR115.C3 J66 1992, 261.8/5
Engel, Louis
Published: 1967
ISBN: 0809133458
Publisher: Bantam
By Arthur Jones. Includes Bibliographical References.
---
Fast Stocks / Fast Money
Business, Nonfiction
Robert Natale
Published: 2001
ISBN: 0071376666
Publisher: McGraw-Hill
---
How To Buy Stocks
Louis Engel
Published: 1976
ISBN: 0316239062
Publisher: Little, Brown
---
[Page 1] [Page 2] [Page 3] [Page 4] [Page 5] [Page 6] [Page 7] [Page 8] [Page 9] [Page 10] [Page 11] [Page 12] [Page 13] [Page 14] [Page 15]